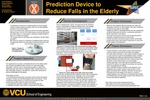 Abstract
Complications arising from accidental falls are one of the leading causes of death among the elderly, with over 25,000 fatalities annually in the U.S.; a third of the elder population falls each year and a fifth of falls cause serious injury. We intended to mitigate these risks by producing a device capable of anticipating falls using biostatistical data.
Deliverables for our design included: An integrated accelerometer and pulse monitor to assess changes in motion and the physiological state of the wearer, a programmed algorithm capable of processing this data, and a mount to attach components to the patient.
Our constraints included a lack of microelectronic components, advanced electrical engineering skills, and access to the elderly for testing purposes.
To build our device, we performed fact-finding at the Dominion Senior Living Center to observe potential users. Our findings emphasized the need to produce a small device with easily-integrated components and a WiFi shield to wirelessly transmit the data to network. We focused on trying to get usable readings from our device and improving functionality.
While we achieved our deliverables, refinement would be needed to move into further stages of development. Further reducing device size, improving wireless capability, adding pulse oximetry, combining measured with static data, and gaining IRB approval would aid in this pursuit.
Despite these limitations, this project represents the first step toward the development of a research-ready device and eventually a consumer model, serving the needs of an aging population and improving late quality of life.
Keywords
biomedical engineering, falls, prediction, algorithm, elderly
Disciplines
Biomedical Engineering and Bioengineering | Engineering
Faculty Advisor/Mentor
Dr. Anathea Pepperl
VCU Capstone Design Expo Posters
Date of Submission
August 2016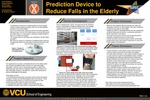 COinS