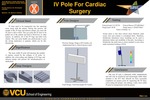 Abstract
IV lines and pumps need to be transported from the operating room to patient recovery with the patient after cardiac procedures. During this process, the weight of the IV pumps and the small wheels on the IV pole can cause the IV pole to become unbalanced and fall or bend due to the load. Due to a decrease in slack in IV lines to minimize IV line tangling, when an IV pole falls, this can result in the IV lines being torn out of the patient that can lead to blood loss and other injuries. In addition, IV bags and tubes all look similar. This can cause health care professionals to give the wrong medications to patients, which can be life-threatening.
The goal of our design was to create an inexpensive, lightweight pole that could be sterilized on-site in the operating room yet still be durable enough to support 50 pounds of excess weight caused by the IV pumps. The IV pole would be standalone in the operating table, but transportable by being attached to the recovery bed. An easily identifiable standardized organization system would be created to label the pumps and the corresponding IV lines to accommodate colorblind health professionals.
On recovery beds used in cardiac surgery, there are two holes located on the bed past the head of the patient where a vertical upright pole can be placed. Our design has our IV pole attaching to this pole through a toggle catch case clips, allowing the pole to remain attached to the bed during transport of the patient. The location of the IV pumps have been moved lower and larger lockable wheels were added to a new square base design in order to shift the weight on the pole down so that it is more sturdy. The base of the IV pole is elevated in order to stop the wheels from getting stuck under the OR and recovery beds. A colored plastic casing for each pump will correspond to a cord organizer will be used throughout the IV lines. A whiteboard tape section has been added to the pumps to allow doctors the ability to label each pump and correspond color the type of drug that is running through it.
Keywords
biomedical engineering, iv pole, cardiac surgery
Disciplines
Biomedical Engineering and Bioengineering | Engineering
Faculty Advisor/Mentor
Dr. Christopher Lemmon
Faculty Advisor/Mentor
Dr. Spencer Liebman
VCU Capstone Design Expo Posters
Date of Submission
August 2016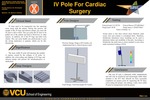 COinS