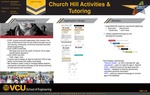 Abstract
Problem Statement: Church Hill Activities and Tutoring ( CHAT ), a non-profit organization which invests in the lives of Richmond's most at-risk children by establishing strong connections through one-on one tutoring, mentorship, and enrichment activities , is facing difficulty in managing consistent communication with parents and volunteers. Each of these audiences requires different channels and information, and currently, sending paper to the home through students has become the primary channel for communicating with parents. The reliability of this practice is limited but continues because parents' contact information, such as phone number or email, changes frequently.
Rationale: Since CHAT is facing difficulties in communicating with parents and volunteers, we as a team are creating a mobile solution to share important and timely information with parents and volunteers. Users will receive notifications and regular updates to schedules and announcements. Users will also be able to update their contact information directly through the app so that the CHAT staff does not have difficulties reaching them.
Approach: We divided the application in to three groups, students, parents and volunteers. Student page will contain the announcements or schedule relating to student events, parent's page will contain the announcements, an option to change/update their contact information, and an option to submit questions/suggestions to CHAT, and finally the volunteer's page will contain the same thing as the parent's page except it will have its own announcements.
Interim Results and Conclusions: For this semester, we are tackling an android application, and so far we have designed a layout for the app. We have also designed a SQL database to store student's, parent's and volunteer's information.
Anticipated Results and Conclusions: By the end of the next semester, we will have completed both the Android and IOS application, and hope to have it available for download for android and IOS users.
Keywords
computer science, CHAT
Disciplines
Computer Engineering | Engineering
Faculty Advisor/Mentor
Preetam Gosh
VCU Capstone Design Expo Posters
Date of Submission
July 2015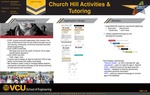 Included in
COinS