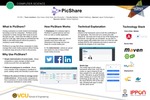 Title
Abstract
PicShare is an app that allows companies to easily manage their social media presence without having to dedicate large amounts of time to the process. Your social media department can now extend their reach with the help of all of your other employees.
Our platform allows users to upload images/text from a mobile application or directly from the web. Administrators have the ability to take their own or user's image/text uploads and prepare for a social media post.
Employees attending events can get content to your social media staff much faster and with more variety. Our application is a great way to get your staff involved in spreading the word about your company. At the same time, you can maintain the security of your social media accounts by only entrusting credentials to administrators.
We have created a one stop shop for social media staff to work from because we allow for connection of multiple accounts. Customers working as administrators within our application can post to multiple social media accounts and multiple accounts within each of our connected platforms.
Keywords
social-media, mobile, web
Disciplines
Computer Engineering | Engineering
Faculty Advisor/Mentor
Dr. Robert Dahlberg
VCU Capstone Design Expo Posters
Date of Submission
May 2018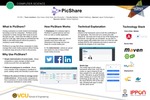 Included in
COinS