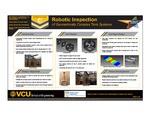 Abstract
The primary focus of this project is to create an autonomous rail based robot to inspect and traverse tanks with the idea of future improvements that would carry out all duties of the refurbishing process. By using a more cost-efficient method of semi-autonomous robotic inspection and refurbishment, Newport News Shipbuilding will be able to reduce the risk of harm and level of manual labor required for the refurbishment process. Additionally, the amount of personal protective equipment that needs disposal should be decreased, thus having a positive impact on the environment.
An initial prototype was developed as a 2013-2014 senior project. The goal of this year's project is to make desired improvements of the rail system, such as inverting the rail system, turning corners, and adding the capability of determining the location of the robot. The need to invert the rail system is to improve clearance through the portals for easier access throughout the tank while the workers are installing the system. By adding the ability to turn corners, the flexibility of the system is increased with regards to system reach and tank access. Finally, a method for determining its position within the tanks is required in order to allow external control of the installed system. This will increase safety by avoiding the need for a human observer in the bay while the robotic system is moving. Autodesk Inventor will be used for all design and analysis work.
The proposed inverted rail system utilizes the same rail material as proposed in phase one. However, the spreader bar concept is replaced with a magnetic hanger system in order to improve flexibility during installation and operations. The carriage design will also modified in order to allow turning corners without removal from the rail system. The anticipated results are a semi-autonomous robotic system that can travel smoothly on a rail based system to inspect the tank, while being directed by human operators outside the tank environment.
The anticipated results for Phase Two of this project are a carriage which can transport the required equipment for tank refurbishment throughout the tank, regardless of point of entry, all while transmitting positional information back to the operator. Future work will include improved position-detection equipment, as well as refinement to the carriage control system to allow better remote control of the system.
Keywords
mechanical and nuclear engineering, robotic inspection
Disciplines
Engineering | Mechanical Engineering | Nuclear Engineering
Faculty Advisor/Mentor
John Speich
VCU Capstone Design Expo Posters
Date of Submission
August 2015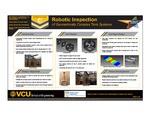 COinS