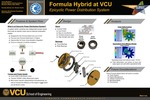 Abstract
In today's automotive industry, the need for more performance and power efficiency is ever increasing. However, with the growing concern of greenhouse gases and their impact on the environment, petrol burning cars need to be improved. Hybrid powertrains in automotive vehicles are being designed to increase fuel economy, reduce emissions, and improve engine efficiency through gearing all the while being competitive.
Our senior design team has developed an epicyclic power distribution (EPD) system which combines two independent power inputs from an electric motor and an internal combustion engine (ICE). This system has been designed specifically for the Formula Hybrid race car at VCU, with an added emphasis on performance. Our working prototype is comprised of a variety of materials to cut down the cost.
The EPD system is comprised of a classic planetary gear system. This specific type of gear train allows the electric motor and internal combustion engine inputs to run at different speeds, independent of one another. The gearing maximizes and amplifies the torque profiles of both inputs.
Following the completion of our project, a clutch system will have to be designed to allow the EPD system to be engaged and disengaged. Lastly, a new car will need to be built to accommodate this system and the other projects that will branch out from ours. It will sit side by side to our sister FSAE car.
Keywords
Mechanical and nuclear engineering, FSAE, Hybrid, Planetary, Formula
Disciplines
Engineering | Mechanical Engineering | Nuclear Engineering
Faculty Advisor/Mentor
Dr. Charles Cartin
VCU Capstone Design Expo Posters
Date of Submission
August 2016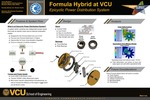 COinS