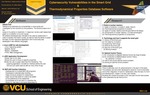 Abstract
Project Scope: Smart grid stability and issues/ challenges associated with coupling nuclear and renewable energy source will be researched. The changes we can expect in grid technology so the robustness and resilience could be further improved will be addressed. This projects will entail literature surveys and may involve running some simulation software and comparisons. Another aspect of the project will be focus on nuclear plant as part of the future smart grid stability challenge. Specifically, this part of the project will entail CFD modeling of zig-zag Printed Circuit compact heat exchanger and modeling it in MATLAB and seeing the difference if any and gaining confidence in correlation which exist in the literature.
Rationale: I believe that this project has value and importance to the academic & research community here at VCU, and elsewhere in the United States, and even the world. There aren't very many databases of thermodynamical properties combined together in this manner. One of the known Databases is by NIST, and it is not free. As it gets further developed, we cant measure its ability to influence because so much can be incorporated. For instance this simple application can be developed into a package of material for a class.
Approach: Well specifically for this java application I started with the basic logic for a couple of main components inside the program.
(1) – Reading Data-Structure .txt file -InputFile.txt -Units.txt -Additional Info.txt
(2) – Creating Data Structure - cor rect sizes must be read by tests from .txt files. - ability to work through them. - abilit y to extract/trim data - ability to graph data.
(3) LOOP BACK TO TOP IF CLIENT WANTS TO SEARCH AGAIN
Interim Results & Conclusion: In conclusion we want to be able to move forward. Progress comes with diligence, good creative thinking, being open minded, & taking pride in the work you do. We want to make an impact, to bring resources to researchers and students. So as we move forward we will be finding unique additions for he program that will be the most helpful to those who wish to use it. Maybe even get involved with the Mech & Nuc Engineering departments here at VCU.
Keywords
computer science, cybersecurity
Disciplines
Computer Engineering | Engineering
Faculty Advisor/Mentor
Preetam Gosh
Faculty Advisor/Mentor
Milos Manic
VCU Capstone Design Expo Posters
Date of Submission
July 2015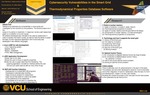 Included in
COinS