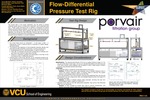 Abstract
provider of filters for critical applications in various industries, Porvair Filtration Group often needs to validate the pressure drop across a given filter medium at various flow rates and to perform quality assurance prior to delivery. The Flow-Differential Pressure Test Apparatus will allow for a test cycle with significant savings in time and money for Porvair going forward.
The design uses high-purity deionized water as the test fluid and performs continual filtration to ensure consistent properties. Flow rates of 0-100 gallons per minute at pressures up to 100 psi gauge are achieved by controlling a pump with i) a variable-frequency drive, ii) a bypass valve to allow diversion of excessive volumetric flow, and iii) a throttling valve to reduce excessive pressure head. A highly-adaptable test section allows for testing of any of Porvair's products. Deliverables included a functioning Test Apparatus and accompanying documentation, including design specifications and manual for assembly, operation, and maintenance.
The unit was iteratively designed with ergonomics and practicality in mind. The entire unit is portable and as small as possible for easy placement in Porvair's facility. Piping was selected based on material characteristics and pressure requirements. The flow meter is situated and adapted for easy replacement if a different measurement range is needed.
Keywords
Mechanical and nuclear engineering, Filtration, Pressure, Quality Assurance, Testing
Disciplines
Engineering | Mechanical Engineering | Nuclear Engineering
Faculty Advisor/Mentor
James Miller
Faculty Advisor/Mentor
Dr. Hong Zhao
Faculty Advisor/Mentor
Eric Duvekot
Faculty Advisor/Mentor
William Sanderson
VCU Capstone Design Expo Posters
Date of Submission
August 2016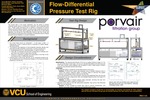 COinS