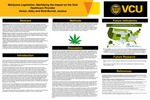 Abstract
Objectives/Aims: Since the mid-2000s, the United States has seen a surge in legislation involving the legalization of marijuana, both recreationally and medicinally. The relaxed laws translated into an increase of marijuana consumption and thereby a potential increase in the number of patients a provider will see that are cannabis users. The purpose of this review is to illustrate how the providers begin to see pathologies related to cannabis use more frequently, and how they will need to be prepared for ways this can be addressed. Additionally, oral healthcare providers will face ethical dilemmas and legal challenges when treating patients and their ability to give informed consent.
Methods: Research reviewed in this paper was compiled from scholarly articles and peer-reviewed journals, including PubMed and CINAHL, published within the last five years. Studies were analyzed on the impact legalization and decriminalization laws have had on marijuana use. Additional research reviewed numerous pathologies related to marijuana use in the dental cavity.
Results: Based on current proposals, it is expected that 40 states will legalize marijuana by the end of 2020. Studies conducted in states such as Oregon, Colorado and Alaska have shown an increase in marijuana usage since legalization has occurred. Research reviewed showed multiple conditions related to marijuana use. Periodontitis, xerostomia, oral cancer, and staining are several of the associated pathologies.
Conclusion: Research suggests an anticipated increase of marijuana users in states that will soon pass legalization. Studies have also shown that there is a higher prevalence of pathologies of the oral cavity in cannabis users versus non cannabis users. The oral healthcare provider will treat more pathologies related to cannabis use and deal with the legal challenges presented to them surrounding informed consent.
Disciplines
Dental Hygiene
Faculty Advisor/Mentor
Latesha McLee
Dental Hygiene Student Scholarship
Date of Submission
April 2020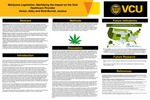 Included in
COinS