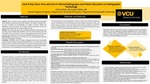 Abstract
Problem: There is a greater need to emphasize and educate patients and providers about radiologic advancements and patient exposure. The tradition of placing lead x-ray vests on patients for all radiographs is no longer a necessity. Without the explanation of why lead aprons are no longer needed, unnecessary steps for the provider and potential harm to the patient could be caused.
Methods: This review of literature was assembled by analyzing data from primary and secondary sources through online databases. The most recent research on the risks and benefits of the use of lead x-ray vests towards patients in the dental office was examined. Articles included in this review were published within the last five years.
Major Findings: Studies show the use of lead x-ray vests is widely obsolete with most new types of radiographic technology.
Conclusions: Collimation and new digital radiographic devices have dramatically decreased patient radiation exposure by limiting the beam to a confined space on the patient's oral cavity. There is also a risk that vests may pose a lead exposure hazard if not taken care of properly. The general patient population is widely unaware of these advancements in x-ray technology and of the ineffectiveness of lead aprons.
Disciplines
Dental Hygiene | Diagnosis | Equipment and Supplies | Other Analytical, Diagnostic and Therapeutic Techniques and Equipment | Other Dentistry | Radiology
Faculty Advisor/Mentor
LaTesha McLee
Dental Hygiene Student Scholarship
Date of Submission
April 2020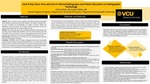 COinS