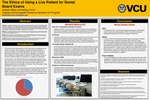 Abstract
Objective: This study will discuss the various viewpoints regarding the ethics of using a live patient for board examination in dentistry. It will expand upon the inconsistency of the exam to include the compromised patient care, dishonorable delay in care needed so students can perform care during boards, the dignity of both the student and the patient that is paid to agree to be subject to such procedures, and the potential and irreversible harm caused to these patients. The research in this paper will explore various options for obtaining a license for clinical boards in dentistry and dental hygiene in place of using a live patient.
Methods: Throughout the project we plan to review literature from various sources to collect research within the last five years supporting the elimination of using a live patient for dentistry board exams. Research will be from primary and secondary sources. After successfully collecting research that supports our objective, we will devise a lesson plan that outlines a provision to care regarding dentistry's clinical boards examinations.
Results: The results of this study will highlight the current compromised patient care in dentistry's clinical boards setting and identify an alternative method to the current clinical boards exam that holds participants to the same level of competency, while sustaining ethical patient care.
Conclusion: Despite the current ADHA and ADA guidelines, dentistry's clinical board exam is not ethically beneficial to a patient's well being and ongoing health. Through research we aim to identify sources that establish facts which support the elimination of live patient use in a clinical board exam.
Keywords
Ethics, Dental Hygiene, Clinical Licensure Exam
Disciplines
Dental Hygiene
Dental Hygiene Student Scholarship
Date of Submission
April 2020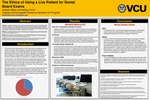 Included in
COinS