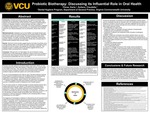 Abstract
Introduction: Probiotics are widely known for their health promoting benefits, especially with its association to gastrointestinal health. For many years, most research has been focused on the prevention or treatment of gastrointestinal infections or diseases. However, recently probiotics has been a subject of investigation with its association to oral health. This review of literature is designed to analyze the effectiveness of using probiotics as a preventative and therapeutic method for oral infections/diseases such as periodontitis, dental caries, and the like.
Methods: Databases such as the PubMed, and Google Scholar were utilized to find current and relevant findings for this reviewed literature. Mendeley was utilized to gather and store findings. Following keyword search items include probiotics, oral health, periodontal diseases, periodontitis, dental caries, gingivitis, halitosis, Lactobacilli, and biotherapy. Articles were narrowed down to include studies published within the last 5 years.
Results: Short-term clinical studies suggest that the oral intake of probiotics show a strong inhibitory effect on the growth and biofilm formation of pathogenic strains, stimulate the immune function, and regulate the inflammatory response. Their repeated success in inhibiting harmful oral bacteria suggests that the use of probiotics holds a promising future in dentistry.
Conclusion: Although still in its initial stages, the use of probiotics is being established as a living biotherapeutic designed to restore normal oral microflora in the oral cavity. More long-term clinical trials are needed to fully understand their functioning and substantiate their role in oral health.
Keywords
probiotics, oral health, periodontal diseases, periodontitis, dental caries, gingivitis, halitosis, Lactobacilli, biotherapy
Disciplines
Dental Hygiene
Dental Hygiene Student Scholarship
Date of Submission
April 2020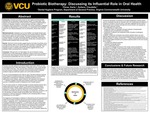 Included in
COinS