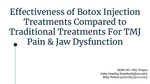 Abstract
Problem: Over 10 million Americans suffer from pain, headaches, and jaw dysfunction associated with temporomandibular joint disorders. Traditionally, when diagnosed, patients are given conservative treatment option recommendations such as an occlusal bite guard, stabilization splint, and over-the-counter pain medication, such as Ibuprofen. These conservative treatment options are meant for short term use. What is the long term answer to temporomandibular joint pain and dysfunction? Surgical replacement of jaw joints with artificial implants has been considered; however, the effectiveness of this irreversible procedure is inconclusive and highly controversial. Botulinum toxin type A injections, or botox, offers an alternative treatment that could be more effective than conservative treatment options and less invasive than surgical replacement.
Methods: This review of literature utilized the PubMed Database to find relevant research studies and reviews to determine the efficacy of Botox treatment, more specifically botulinum toxin type A injections, in the treatment of temporomandibular joint dysfunction and disorders. Most of the studies rely on patient-reported outcomes based on pain reduction and/or improvement in function of the temporomandibular joint. Studies evaluating the potential side effects of Botox were completed by treating and observing mice. Studies and reviews included in this review of literature date no later than 2016.
Major Findings: Many studies have shown that botulinum toxin type A injections significantly reduce pain, tension-type headaches, and joint dysfunction associated with temporomandibular joint disorders.
Conclusions: There is significant evidence suggesting the effectiveness of botox treatment in individuals suffering with TMJ disorders. Although benefits of this form of treatment are evident in numerous studies, potential adverse effects must be determined and studied; the risks must be compared to the outcome. Furthermore, the beneficial side effects of botox can be transient, while the negative side effects can be long lasting. Manipulation of frequency and dose must be observed to confirm the potential of this therapy treatment in having a long lasting beneficial effect.
Keywords
botox, TMJ, botulinum, toxin, injection, mouthguard, stress, dysfunction, temporomandibular, joint, clicking, clinching, jaw, popping, subluxation
Disciplines
Dental Hygiene
Dental Hygiene Student Scholarship
Date of Submission
April 2021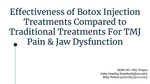 Included in
COinS