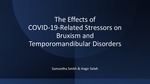 Abstract
Problem: COVID-19 has proven to be a major public health emergency, with an array of physical and emotional complications. While COVID-19 has its own effects on the human body, anxiety induced by the pandemic has shown to take a toll on the human oral cavity by means of causing individuals to grind and clench their teeth due to anxiety/stress, potentially leading to temporomandibular disorders and orofacial pain.
Methods: A thorough review of literature was conducted by consulting credible studies published on online databases such as PubMed, Dentistry & Oral Sciences Source, Google Scholar, and Academic Search Complete. The studies examined were all conducted within the last five years (2016 and newer). Using key terms and phrases, a series of primary and secondary sources were analyzed in order to determine the effect of COVID-19 on bruxism and orofacial pain/temporomandibular disorders.
Major findings: Researchers have found a direct correlation between the increase of anxiety, stress, and fear during the COVID-19 pandemic and the increase in bruxism and facial pain.
Conclusions: In conclusion, the COVID-19 pandemic may result in the accumulation of emotional stress, which may have a profound impact on many aspects of health, including oral health. The studies have found that psychological factors such as stress and anxiety, associated with the Covid-19 pandemic, may lead to a greater risk of developing or worsening bruxism and temporomandibular joint disorders, which in turn would lead to increased orofacial pain. It has been encouraged that dental staff should pay more attention to the spread of such orofacial disorders during the pandemic. They should become more acquainted with the diagnostic methods of such disorders, their treatment options, and techniques for reducing stress to reduce the spread of such oral complications.
Keywords
COVID, coronavirus, clenching, grinding, temporomandibular disorders, fear, stress, bruxism
Disciplines
Dental Hygiene | Dental Public Health and Education | Health Psychology
Faculty Advisor/Mentor
Dr. Oonagh Loughran
Faculty Advisor/Mentor
Ms. LaTesha McLee
Dental Hygiene Student Scholarship
Date of Submission
May 2021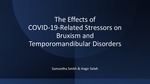 COinS