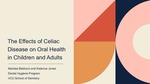 Abstract
Objectives: Celiac disease (CD) is an autoimmune disorder characterized by intolerance to dietary gluten in genetically predisposed subjects. To ensure affected patients receive optimal dental care, it is necessary for dental professionals to recognize the oral manifestations of celiac disease in both children and adults. Upon associating oral conditions with celiac disease, the dental provider should be able to present recommendations to the patient, contributing to an improvement in their oral health.
Methods: This review of the literature used PubMed to identify relevant professional research articles with publication after 2017. MesH terms utilized in the search process were "celiac disease," "coeliac disease," "oral manifestations," "children," and "adults." The studies reviewed include primary and secondary sources from refereed journals.
Results: From the research, both children and adults with CD presented with a variety of oral manifestations, such as recurrent aphthous stomatitis (RAS) and dental enamel defects (DED). Children with CD experienced delayed tooth eruption and delayed dental maturity, while adults with CD developed sialadenitis, dry and cracked lips, and xerostomia. Other oral conditions observed in association with celiac disease include dentin sensitivity, gingival bleeding, and in some cases, increased levels of caries.
Conclusions: Many oral manifestations are similar among children and adults with CD; however, irreversible conditions such as enamel hypoplasia only affect patients who contract CD while the teeth are still developing. Adhering to a gluten-free diet is necessary for these patients in reducing the risk of developing oral implications or managing existing conditions. Furthermore, dental professionals have the responsibility of identifying oral manifestations in CD patients and referring the patient to a nutritional counselor if a vitamin deficiency or inadequate diet is suspected.
Keywords
Celiac disease, gluten-free diet, oral manifestations, children, adults
Disciplines
Allergy and Immunology | Dental Hygiene | Dentistry | Dietetics and Clinical Nutrition | Gastroenterology | Oral Biology and Oral Pathology | Pediatric Dentistry and Pedodontics
Faculty Advisor/Mentor
Ms. McLee
Dental Hygiene Student Scholarship
Date of Submission
April 2022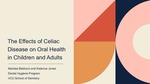 COinS