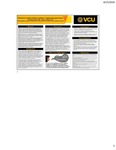 Abstract
Objective: Conventional cigarettes have shown severe toxicity on immune cells and wound healing in the periodontium, but little is known about the comparative effects of vaping or electronic cigarettes. In a substantial shift away from conventional cigarettes, vaping and e-cigarette sales have increased nearly 600% since 2017. If current conventional cigarette users are to transition to a less detrimental alternative, the evidence must demonstrate if electronic nicotine delivery systems can be deemed safer than conventional options.
Methods: By compiling data from the PubMed database, the most recent perspectives on new smoking methods and effects of usage on periodontal tissues were examined. The authors input various combinations of MeSH terms "electronic nicotine delivery system," "periodontal," "gingival" and "electronic cigarette." Search results were filtered to only include studies within the last seven years, included all countries, and selective preference was given to primary research sources.
Results: Electronic nicotine delivery systems have been shown to contribute to several pathophysiological effects including oxidative and carbonyl stress, inflammatory dysfunction, presence of apoptotic necrotic epithelial cells, and impaired fibroblastic activity. Evidence-based research has shown the use of electronic nicotine devices lead to changes in cellular activity which manifests as a strong risk factor for periodontal disease and fibrosis of the oral submucosa. The primary outcome measure of the health of the periodontium was indicated mainly by bleeding on probing, attachment loss and presence of inflammatory cells present.
Conclusion: Electronic nicotine delivery systems are still being studied and studies are difficult to complete due to participants partaking in multiple forms of smoking. Although individuals transitioning from conventional to newer electronic nicotine delivery devices perceive making a healthy switch, scientific evidence indicates the risk of periodontal damage and disease are significant.
Keywords
Electronic Nicotine Delivery Systems, ENDS, Periodontal, Dental Hygiene, Tobacco, Fibroblast, Vaping, Smoking, Alveolar Bone
Disciplines
Dental Hygiene
Faculty Advisor/Mentor
Dr. Joan M. Pellegrini
Dental Hygiene Student Scholarship
Date of Submission
April 2019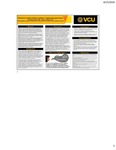 Included in
COinS