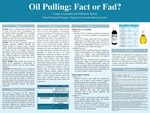 Abstract
Problem: There is a greater need in today's world for better oral care across all populations. In developing countries, the tradition of oil pulling has provided an affordable and accessible alternative to antimicrobial rinse agents. Western society has taken note of this and oil pulling has emerged as the latest oral hygiene fad.
Methods: This review of literature used the following databases: PubMed, CINAHL and Google Scholar to identify relevant research articles. Search terms included oil pulling, coconut oil, sesame seed oil, oil swishing, oral health, periodontitis, gingivitis, and bacterial adherence. The studies reviewed used previously validated data collection methods to report their results. Articles included in this review had to be published after 2015.
Major findings: Many studies have shown oil pulling to be comparable to chlorhexidine in antimicrobial properties and even reduce plaque adherence.
Conclusions: Oil pulling shows to be an additional method for improving oral hygiene by reducing bacterial counts, plaque adherence, malodor and aid in enhancing overall gingival health. Although there have been promising outcomes there needs to be larger scale, long term studies to definitively prove the benefits of oil pulling in the oral cavity. Additionally, these studies need to include subjects from varied geographic locations and cultures worldwide.
Keywords
oil pulling, coconut oil, sesame oil, dentistry, ayurvedic medicine, antimicrobial
Disciplines
Alternative and Complementary Medicine | Community Health and Preventive Medicine | Dental Hygiene | Dental Public Health and Education
Faculty Advisor/Mentor
Dr. Joan Pellegrini
Dental Hygiene Student Scholarship
Date of Submission
April 2019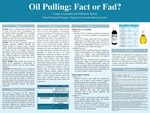 COinS