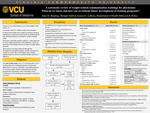 Abstract
It is reported that physicians lack training to address weight-related concerns with patients. To overcome this, training programs have been implemented in medical settings to prepare physicians to have conversations with patients. However, it is unclear the degree of consistency among existing training programs and factors associated with better outcomes. The objective of this study was to systematically review the existing literature in this area to determine differences in content, outcomes, and implementation of existing studies that test weight-related communication training programs for physicians.
A systematic literature review of online databases including PubMed, PsycINFO, and Proquest was conducted with the assistance of a librarian. Search terms included: health communication, training, physician training, weight, and obesity. Studies were selected based on the following inclusion criteria: physicians are post-graduate medical doctors; trainings encompassed weight-related communication; and outcomes were tied to physician uptake of skills, knowledge, and self-efficacy, or patient-related outcomes. Two coders reviewed studies using detailed inclusion criteria. Disagreements were resolved by consensus among authors.
Half of studies assessed outcomes in both patients and physicians. Trainings including motivational interviewing (MI) assessing patient outcomes found increases in patient knowledge, satisfaction, motivation, and weight loss, respectively. Whereas, non-MI trainings assessing patient outcomes found an increase in patient weight loss, confidence and motivation, or no changes in patient outcomes.
This review was the first to examine programs aimed to teach physicians to communicate with patients about weight. Future studies should examine the effect of physician communication on BMI.
Keywords
Health Communication, Weight, Patient-Centered Communication, Obesity, Physician Training
Disciplines
Health Communication | Health Psychology
Faculty Advisor/Mentor
Jessica G. LaRose
Is Part Of
VCU Graduate Research Posters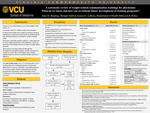 Included in
COinS