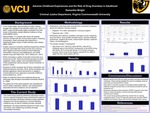 Abstract
Background
Adverse childhood experiences (ACEs) encompass a variety of traumatic events that occur during one's youth. ACEs may be physical, mental, emotional, or sexual in nature, and they are often associated with long-term negative consequences such as alcoholism, substance abuse, and criminal justice involvement. The global rise of the opioid epidemic has intensified the need to better understand and address factors associated with illicit substance use. The current study will investigate the relationship between exposure to ACEs, onset of drug use, and history of drug overdose.
Methods
This study will utilize an observational design in which participants will be asked to complete a self-report questionnaire. The sample will comprise of male and female individuals housed in a local suburban jail. The study aims to recruit 350 participants. The survey will collect data regarding childhood experiences, age at first drug use, history of drug use, and drug overdose. Gender, race, and age differences will be examined.
Results
The current study is part of an ongoing research project. Using descriptive and explanatory statistics, preliminary results will be presented.
Conclusions
While prior literature has explored the relationship between ACEs, morbidity, and mortality, the current study aims to explore whether ACEs are associated with onset of drug use and drug overdose. ACEs and substance abuse issues are prevalent amongst incarcerated people, and risk of overdose is particularly high in this population. Findings may lend insight into the need for trauma-informed interventions within the community and the criminal justice system.
Keywords
Adverse childhood experiences, Overdose, Incarceration, Addiction, Substance abuse treatment, Opioid epidemic, Trauma-informed interventions, Criminal justice system
Disciplines
Other Public Affairs, Public Policy and Public Administration | Social Policy | Social Work
Faculty Advisor/Mentor
Dr. Amy Cook and Dr. Nancy Morris
Is Part Of
VCU Graduate Research Posters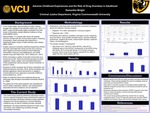 COinS