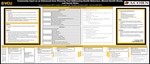 Abstract
Background: Many patients with multiple chronic conditions (MCC) have social risks, mental health needs, and/or unhealthy behaviors. These interfere with their ability to manage their MCC. A care planning tool was created to help address these needs; this study solicited feedback from stakeholder groups and incorporated it into improving the tool.
Methods: Instrument: The Enhanced Care Planning (ECP) tool screens patients for social risks, mental health needs, and unhealthy behaviors. They are shown where their responses revealed risk, then select 1-2 to improve upon. Next, patients set personal goals and select strategies to support them. Patients are supported by the clinical care team and a community health worker to connect them to community resources. Procedures: Four stakeholder groups provided feedback on the ECP tool: community members, community service professionals (CSPs), researchers, and patients. A community review board of community members reviewed the ECP process. Researchers and CSPs then reviewed ECP content. Feedback was incorporated into revisions of the ECP content and process, then patients provided final feedback.
Results: All stakeholder groups provided unique feedback. Community members desired visuals, the ability to individualize and receive support throughout the process. Researchers and CSPs recommended removing jargon. While researchers were interested in specific evidence-based strategies, CSPs suggested strategies with anecdotal support. Patients expressed positive overall impressions of the tool, interest in using it, and increased awareness of domains that influence their health.
Conclusion: Feedback from all groups significantly altered the ECP tool's design, and is likely to improve its usability and impact.
Disciplines
Clinical Psychology
Is Part Of
VCU Graduate Research Posters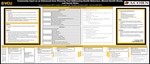 Included in
COinS