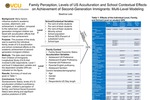 Abstract
Background: Students' academic achievement is influenced by several factors from individual characteristics to contextual factors. In addition to these factors, second-generation immigrant children are faced with acculturation effects that impact on their achievement. Purpose: The purpose of this study was to examine the individual, family, and contextual effects on the academic achievement of second-generation immigrant children.
Methods: This was a quantitative research where a two-level Hierarchical Linear Modeling (HLM) was used. The data used in the study comes from Children of Immigrants Longitudinal Study (CILS) which was done with 5,262 respondents. This data was collected through interviews and surveys. The relevant variables in the study were; GPA which was the dependent variable, and individual characteristics, perception of family, levels of acculturation (level one variables), school contextual effects (level two variables) were the independent variables.
Results: Grade level, gender, length of stay in the U.S, Family Social Economic Status and levels of U.S acculturation; the individual characteristics all measured as level one predictors were positive and significant predictors of GPA. Contextual factors of the school population, minority population all measured as level two predictors were significant and negative predictors of GPA, while School Social Economic Status also a level two predictor was a positive and significant predictor of GPA.
Conclusions: Family Socioeconomic Status, levels of U.S acculturation (children's proficiency in English, children's perception of family) and school Social Economic Status were strong and significant positive predictors of GPA.
Is Part Of
VCU Graduate Research Posters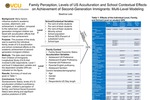 Included in
COinS