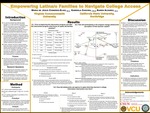 Abstract
Background
With the education crisis of Latinas/os, it is important to understand ways to increase access to college for the most vulnerable youth (Gándara & Contreras, 2009). To investigate strengths that promote college accessibility in underserved Latina/o families, the current qualitative study assessed the following: (1) Prior to beginning the intervention program and after the intervention program what forms of capital did families possess? (2) How did participating in the program change adolescents' perception of their parents' capital? (3) How did adolescents use agency to apply what they learned in college information intervention over time?
Methods
Latina/o parent-adolescent dyads (N = 11) participated in a college knowledge program in California. Sample included girls (67%) and 11-16 years of age (M = 14.0, SD = 1.78). Five of 11 families were interviewed 6-months post-effects of the intervention program. Research study used grounded theory inductive analysis approach (Corbin & Strauss, 2015).
Results
Question 1, Latina/o adolescents expressed aspirational, familial, navigational, and social capital before and after the intervention. Question 2, After participating in the intervention, adolescents expressed familial support through a combination of tangible (drop me off at school) and intangible (want me to be a good man) acts. Question 3, focused on the 6-month post-effects of the intervention program. Adolescents expressed agency by actively meeting requirements to apply to college, and understanding the path they need to reach their educational goals.
Conclusion
Discussion will focus on the importance of college information intervention programs in increasing Latino/a youth's education experiences.
Disciplines
Developmental Psychology
Is Part Of
VCU Graduate Research Posters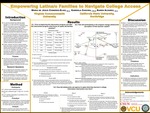 Included in
COinS