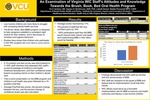 Abstract
Introduction: Families who are low income and have low oral health literacy tend to have poor oral health. The Brush, Book, Bed (BBB) program helps caregivers establish a consistent night routine for their children that includes brushing teeth, reading, and an age-appropriate bedtime. BBB has been shown to increase oral hygiene behaviors and therefore oral health outcomes. Studies have shown that children who participate in Women, Infants, and Children, (WIC) programs are more likely to access dental services. This study examined local Richmond, Virginia (VA) WIC staff on their current oral health knowledge and views on implementing BBB.
Methods: A 10-question the pre-assessment survey was administered to 11 WIC staff. The pre- assessment evaluated WIC staff's knowledge of children's oral health and their confidence levels toward counseling clients on dental care. After the pre-assessment, a short presentation on BBB and children's oral health was given. Following the presentation, a 19-question post-assessment was conducted to determine how much information WIC staff retained and changes in their confidence levels.
Results: All participants improved their scores on the post-assessment after the BBB presentation showing a 17% improvement. The percent of staff that felt very confident in advising clients on their children's oral health grew by 19%. Across the sample, 100% of participants reported that BBB would benefit their clients and implementing it in their office would be feasible.
Conclusion: Findings from the current study demonstrate that WIC staff are receptive to the goals of BBB and believe that its implementation could help their clients.
Disciplines
Health and Medical Administration
Is Part Of
VCU Graduate Research Posters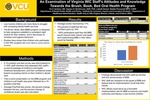 Included in
COinS