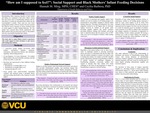 Abstract
Background: Many of the adverse health outcomes that breastfeeding protects against disparately affect black mothers and children; however, black mothers are the least likely racial group in the U.S. to breastfeed. Black mothers have indicated that breastfeeding barriers include a lack of social support. Qualitative studies examining such breastfeeding barriers often focus on women who have unsuccessfully breastfed and fail to define the experiences of women who have successfully breastfed. This study aims to identify the impacts of social support on the infant feeding decisions of black women with varying levels of breastfeeding success.
Methods: Twenty-five black women were interviewed in mini-focus groups and were recruited according to three categorizations of breastfeeding duration: formula-fed only, breastfed for ≤3 months, or breastfed for ≥4 months. Focus group questions addressed mothers' perceptions, attitudes, intentions, experiences, and perceived barriers and facilitators regarding infant feeding practices. Group interviews were audio-recorded, transcribed, and then analyzed specific to social support using a grounded theory approach.
Results: Mothers in all three breastfeeding categorizations reported experiences with tangible, emotional, and informational support from members across sectors of their social networks. Additionally, mothers reported dissonance between informational support received and their personal infant feeding intentions as well as a need for increased social support regardless of infant feeding method.
Conclusions: This study provides an in-depth analysis of social support as a facilitator and barrier to infant feeding decisions for black mothers. Given the findings, it is suspected that experiences with social support are integral to women's infant feeding decisions.
Disciplines
Medicine and Health Sciences
Is Part Of
VCU Graduate Research Posters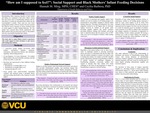 Included in
COinS