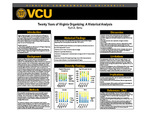 Abstract
Virginia Organizing is a non-profit, non-partisan statewide grassroots community organization aimed at empowering people to affect change in their communities. They celebrated their 20th anniversary in 2015 and this process evaluation identifies the unique role that the Virginia Organizing State Governing Board has had in governing the organization. It determined the historical themes from this governing body's 20 years of meeting minutes and assessed its membership diversity over time. In attempting to answer these questions: What themes emerge from the first 20 years of Virginia Organizing State Governing Board meeting minutes? How has the diversity of the membership of the State Governing Board of Virginia Organizing changed or not changed over time and is it presently diverse?, the study used a convergent parallel design from a mixed-methods approach to interpret the two sets of data in light of each other and in comparison to the literature on non-profit governance and board diversity. The Virginia Organizing State Governing Board has a keen awareness of the importance of diversity to the organization's success and has made strides in assuring their own diversity for 20 years. This research contributes to the literature on board diversity, community organizing, and non-profit structure and affirms Virginia Organizing for their strategic efforts to maintain diversity.
Keywords
community organizing, non-profit board, historical analysis, diversity
Faculty Advisor/Mentor
Youngmi Kim, Ph.D.
Is Part Of
VCU Graduate Research Posters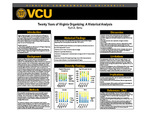 Included in
COinS