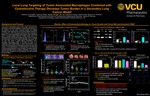 Abstract
Backgrounds. The efficacy of a locally administered small molecule colony stimulating factor 1 receptor inhibitor (CSF-1Ri), PLX3397, alone or in combination with cytoreductive therapy (paclitaxel) in reducing the tumor burden of an in vivo model of secondary lung cancer was investigated in this work. Local administration of immunotherapy to the lungs may enhance lung biodistribution of such therapies and reduce potential unwanted off-target toxicity. In addition, combination of such therapy with low dose standard of care chemotherapy may offer improved anti-tumor effects.
Methods. Murine breast cancer cells (4T1, known to be highly metastasized to the lungs) were transduced to express the genes luciferase and tdTomato, and cells were injected to female Balb/c mice before being treated with PLX (intratracheally administered), paclitaxel (intravenously given), or the combination therapy. Both ex vivo bioluminescent imaging and lung weights were used to evaluate tumor burden. Western blot was performed using lung tumors to assess the effect of PLX3397 on its molecular target (phosphorylated CSF-1R). Immunofluorescence and Flowcytometry were utilized to examine the impact of treatment on tumorigenic tumor associated macrophages (M2 TAM).
Results. Single-agent treatment partially decreased tumor burden, while combination therapy led to a significant reduction in tumor burden. PLX3397 significantly inhibited the expression of phosphorylated CSF-1R and reduced the number of M2 TAM without affecting the total macrophage population, thereby increasing the anti-tumorigenic (M1)/M2 ratio.
Conclusion. Tumor burden reduction upon local administration of PLX3397 to the lungs correlates with the marked inhibition of the molecular target and the decrease in M2 TAM.
Disciplines
Pharmacy and Pharmaceutical Sciences
Is Part Of
VCU Graduate Research Posters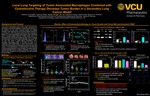 Included in
COinS