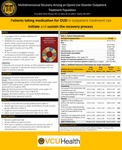 Abstract
Background: Given the current opioid crisis, recovery from opioid use disorder (OUD) warrants attention. SAMHSA's working definition of recovery highlights dimensions that support recovery including health, home, community, and purpose. Recovery capital captures factors that support recovery within these dimensions and has been associated with recovery outcomes. Prior research highlights possible gender differences in recovery outcomes. Objective: 1) Describe and compare recovery capital among an OUD outpatient treatment population by gender; 2) Identify the relationship between recovery capital and length of time in treatment within this population.
Methods: Patients (n=126) taking medication for OUD at a single outpatient substance use treatment clinic completed an electronic, cross-sectional survey (July-September 2019). The Brief Assessment of Recovery Capital (BARC-10) assessed recovery components. Length of current treatment episode was abstracted from Virginia's Prescription Monitoring Program. Descriptive statistics were calculated. Chi square and Mann Whitney-U were used to test differences by gender. Multivariate linear regression was conducted.
Results: Participants (n=126) were 45.3% men and 54.7% women. Most identified as Black (67.7%) and were single (69.0%). Compared to men, women were younger (38.8711.31 vs. 47.0712.12; p<.001) and more likely to be unemployed (60.9% vs. 42.1%; p=.037). Mean BARC-10 score was 45.08 (9.73) and did not vary by gender. Several BARC-10 individual items within the purpose recovery dimension differed by gender (p<.05). More social support was associated with higher BARC-10 score (p<.001); length of treatment was not (p=.599).
Conclusions: Recovery capital was high and gender differences minimal. Individuals receiving medication for OUD can initiate and sustain recovery.
Disciplines
Clinical Psychology | Psychology
Is Part Of
VCU Graduate Research Posters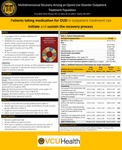 Included in
COinS