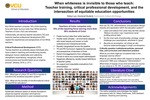 Abstract
Background
Non-White teachers comprise 18% of the teaching force with faster burnout rates than White teachers. Teachers of Color (ToC) are exhausted. Institutionally, pre-service teacher education (TE) and inservice teacher professional development (PD) neglect the experiences and perspectives of non-White teachers. Critical Professional Development (CPD) "frames teachers as politically-aware individuals who have a stake in teaching and transforming society; dialogical; honors relationality/collectivity; strengthens racial literacy; recognizes critical consciousness & transformation as an ongoing process" (Mosely, 2018, p. 271).
Q1: What type of critical TE and PD is needed to transform the racialized education system?
Q2: What are the benefits of transformational critical TE and PD for educators? Methods I did a systemic literature review of TE and PD in peer-reviewed journal articles.
Results
The results of the literature review found several themes including a lack of any racial or structural analysis; recruitment of ToC happens simultaneously with the enabling and reifying of racist beliefs; there is no education for ToC helping them navigate the racist educational system and conversations; there is no safe space in schools or the academy, e.g., "White space is unsafe – all schools are white space"; ToC experience racial violence every day in schools.
Conclusions
White teachers and administrators should listen to and believe ToC; critically and reflectively question their assumptions and biases; become an accomplice, a co-conspirator, not just an ally; become more observant of the ways that race and racism are operating in schools and classrooms; and engage in tough conversations about inequity at work.
Disciplines
Curriculum and Instruction | Curriculum and Social Inquiry | Education
Is Part Of
VCU Graduate Research Posters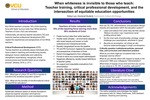 COinS