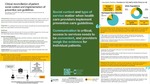 Abstract
Background
Preventive care practice guidelines are disseminated regularly through federal and scientific groups as a way of promoting best practices and evidence-based health promotion. Yet rates of their implementation are historically low and complex, with cited barriers including limits on physicians' time, knowledge or attitudes; and external factors related to the guideline itself, the clinical environment, or patient factors. The objective of this qualitative research is to understand how primary care clinicians and staff reconcile perceived patient-level factors and implementation of preventive care guidelines.
Methods
Key informant interviews (n=23) with 14 clinicians and 9 office managers from 14 primary care clinics were analyzed using a grounded theory approach. Codes were categorized, then reviewed using conventional content analysis to determine thematic content.
Results
The importance of using communication tools; convenience for access to preventive services; and weighing the evidence when deciding how to proceed with preventive care emerged as themes related to understanding how providers reconcile between patient factors and implementation of preventive care guidelines.
Conclusions
The interviews used in this study provide some rich context to address the research objective: how providers reconcile between what they perceive to be patient factors and how they go about providing preventive care according to guidelines. The hope for this study is to identify key themes to instigate future exploratory research and provide evidence to target improvements in patient care.
Disciplines
Medicine and Health Sciences | Social and Behavioral Sciences
Is Part Of
VCU Graduate Research Posters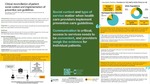 COinS