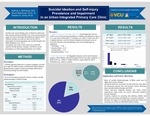 Abstract
Introduction: Suicide is the second leading cause of death for adolescents (Rosenbaum & Ougrin, 2019). Pediatric primary care staff are often the first line of intervention for youth presenting with suicidal thoughts and NSSI (Taliaferro et al., 2013). The primary aim of the current study was to describe reported suicidal ideation, attempts, and NSSI in youth presenting to an urban integrated primary care setting.
Methods: Within an outpatient pediatric primary care clinic, patients were referred by medical staff and introduced to behavioral health services. Patients were asked about their history of suicidal thoughts/attempts and NSSI (Mage = 12.63; SD = 4.51; 66.3% female, 66.3% Black; 69.6% Medicaid). Patients were also screened using the Pediatric Symptom Checklist-17 (PSC17; Gardner et al., 2007) and Top Problems (Weisz et al., 2001).
Results: Seventeen percent of patients endorsed a history of either suicidal ideation/attempts or NSSI. Chi-square analyses identified a significant association between patient race and suicidal ideation/attempts [χ2(6) = 13.56, p = .035]. The sample's mean internalizing score on the PSC17 fell within the clinical range (M = 6.13, SD = 2.49). Further results reflecting findings, interventions used, and top problem areas will be presented.
Conclusion: Results highlight a demand for establishing and sustaining effective screening and engagement in mental health treatment for youth suicidality and self-injury in integrated care settings. Future directions will be discussed.
Disciplines
Clinical Psychology | Psychology
Is Part Of
VCU Graduate Research Posters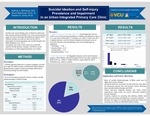 Included in
COinS