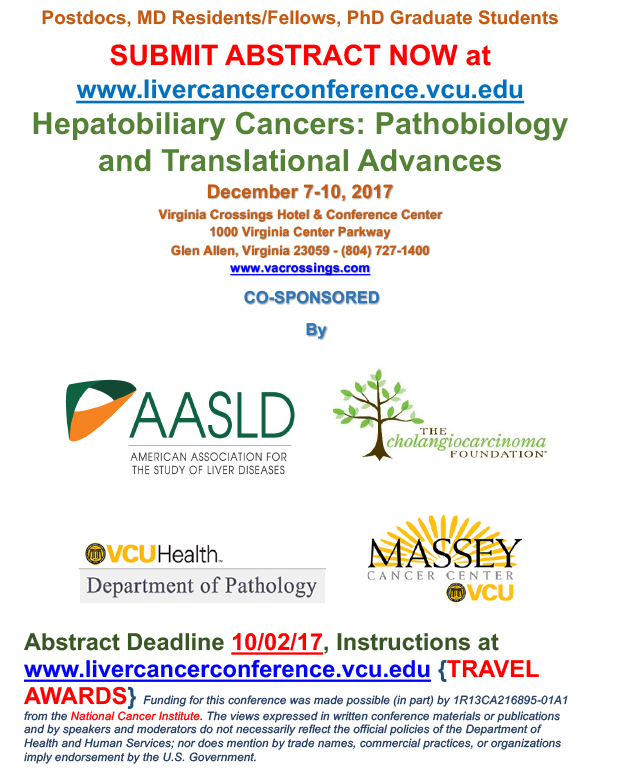 Abstracts from the conference Hepatobiliary Cancers: Pathobiology and Translational Advances, being held at Virginia Crossings Hotel & Conference Center in Glen Allen, Virginia, December 7-10, 2017. Organizer and Chair: Alphonse E. Sirica, Ph.D., M.S., Virginia Commonwealth University School of Medicine. Supported by the American Association fro the Study of Liver Diseases (AASLD) and by the Cholangiocarcinoma Foundation and co-sponsored by the VCU Dept. of Pathology.
Abstracts Accepted for Presentation
Hepatic Stellate Cell-Derived Cancer Associated Fibroblasts Sustain Tumor Growth in Intrahepatic Cholangiocarcinoma, Silvia Affo, Le-Xing Yu, Xin Chen, and Robert F. Schwabe
Identification of Common Molecular Subtypes of Asian Hepatocellular Carcinoma and Cholangiocarcinoma., Anuradha Budhu, Jittiporn Chaisaingmongkol, Hien Dang, So Mee Kwon, Siritida Rabibhadana, Benjarath Pupacdi, Marshonna Forgues, Yosawat Pomyen, Vajarabhongsa Bhudhisawasdi, Nirush Lertprasertsuke, Anon Chotirosniramit, Chawalit Pairojkul, Chirayu Auewarakul, Thaniya Sricharunrat, Kannika Phornphutku, Suleeporn Sangrajrang, Maggie Cam, Ping He, Stephen M. Hewitt, Xiaolin Wu, Snorri S. Thorgeirsson, Paul S. Meltzer, Christopher Loffredo, Robert H. Wiltrout, Curtis C. Harris, Chulabhorn Mahidol, Mathuros Ruchirawat, and Xin W. Wang
Oncogenic NELFE Enhances MYC-induced Hepatocellular Carcinogenesis, Hien Dang, Atsushi Takai, Marshonna Forgues, Yosawat Pomyen, Haiwei Mou, Wen Xue, Debashish Ray, Kevn Ha, Quiad Morris, Timothy Hughes, and Xin Wei Wang
The Role of Menin-MLL Interaction in the Dissociation between Cholestatic LIver Diseases and Cholangiocarcinoma, Laurent Ehrlich 2085637, Chad Hall Dr., Tori Sheppard, Julie Venter, April O'Brien, Terry C. Lairmore Dr., Gianfranco Alpini Dr., and Shannon Glaser Dr.
The Scaffolding Protein IQGAP1 Promotes Hepatic Proliferation and Protects the Liver from Injury, Hanna Erickson and Sayeepriyadarshini Anakk
Glypican-3 Targeting Immunotoxins for the Treatment of Liver Cancer, Bryan D. Fleming, Daniel Urban, Lu Chen, Matthew Hall, Ira Pastan, and Mitchell Ho
The Role of Kinase Fusion DNAJB1-PRKACA in Fibrolamellar Hepatocellular Carcinoma, Yi Guo
Alcoholic Liver Diseases, Stem Cell Disorder and Hepatocellular Carcinoma, Shoujun Gu, Shuyun Rao, Sobia Zaidi, Kazufumi Ohshiro, Jian Chen, Wilma Jogunoori, Jon White, Nagarajan Pattabiraman, Raja Mazumder, Anelia Horvath, Ray-Chang Wu, Sjhulin Li, Chu-xia Deng, Rehan Akbani, Bibhuti Mishra, and Lopa Mishra
Innate Lymphoid Cells in Mouse Models of HCC and NASH, Bernd Heinrich and Tim F. Greten
CCA development in the background of Congenital Hepatic Fibrosis/Caroli Disease, eleanna kaffe Mrs, carlo spirli, Luca Fabris, Massimiliano Cadamuro, and Mario Strazzabosco
Commonly Used H1 and H2 Histamine Receptor (HR) Blockers Decrease Cholangiocarcinoma Xenograft Tumor Growth, Angiogenesis and EMT, Lindsey Kennedy, Laura Hargrove, Jennifer Demieville, Walker Karstens, Steven Smith, and Heather Francis
Ibrutinib in Combination with Sorafenib Synergistically Inhibits Proliferation and Survival of Hepatocellular Carcinoma Cells by Targeting EGFR Signaling Pathway, Cho-Hao Lin, Nissar Wani, Khadija Elkholy, and Kalpana Ghoshal
Convergence of Wnt/Beta-catenin and mTOR Signaling in Liver Physiology and Hepatocellular Carcinoma, Adeola O. Adebayo Michael, Junyan Tao, and Satdarshan P. Monga
Targeting hepatocellular carcinoma through TGF-β pathway E3 Ligases, Kazufumi Ohshiro, Jian Chen, Shulin Li, Jon White, Asif Rashid, and Lopa Mishra
Transcriptional reprograming that persists after clearance of oncogenic hepatitis C virus, Atsushi Ono, Francis J. Eng, Frank Juehling, Nourdine Hamdane, Naoto Fujiwara, Takaaki Higashi, Billie C. Bian, Hadassa Hirschfield, Vera Kim, Thomas F. Baumert, Andrea D. Branch, and Yujin Hoshida
Hepatocyte-specific deletion of Tristetraprolin family of RNA Binding Proteins result in the development of Hepatocellular Carcinomas, Sonika Patial
Bile Acids Contribute to the Gender-Biased Incidence of HCC, Megan E. Patton, Sherwin H. Kelekar, Rhishikesh Thakare, Yazen Alnouti, and Sayeepriyadarshini Anakk
Autophagy is Involved in HDAC6 Mediated Ciliary Loss, and Increases Malignancy in Cholangiocarcinoma Models, Estanislao Peixoto, Stephanie Holtorf, Kristen Thelen M. Thelen, Maria J. Lorenzo Pisarello, Nicholas F. LaRusso, Sujeong Jin, and Sergio A. Gradilone
Survival Model of Intrahepatic Cholangiocarcinoma; Sex as a Biological Variable, Mary A. Phillippi, Justin L. Mott, Cody J. Wehrkamp, Ying Xie, David Oupicky, Ashley M. Mohr, and Bailey A. Stringham
Hepatocellular Cancer Genome and Transcriptome Analysis Validates Clinically Significant Mutational Signatures with the TGF-𝛃 Pathway, SHUYUN RAO, Jian Chen, Kazufumi Ohshiro, shoujun gu, Sobia Zaidi, Wilma S. Jogunoori, Jon White, Nagarajan Pattabiraman, Raja Mazumder, Anelia Horvath, Ray-Chang Wu, Shulin Li, Chuxia Deng, Bibhuti Mishra, Rehan Akbanni, The TCGA Cancer Network, and Lopa Mishra
Regulation of Biliary Progenitor Cell Proliferation by Hedgehog Signaling in In Vivo and Ex Vivo Organoid Models, Nataliya Razumilava M.D.; Junya Shiota M.D.; Ramon Ocadiz-Ruiz Ph.D.; Nureen Hanisah Mohamad Zaki; Kais Zakharia M.D.; Michael Mathew Hayes; and Juanita Lynn Merchant M.D., Ph.D.
Yap Functions Via TEAD Mediated Transcriptional Activation in Hepatoblastoma Pathogenesis, junyan tao 8598903, pin liu, jie zhang, sucha singh, xin chen, Na zhan, and Satdarshan (Paul) Singh Monga
A New HCC Model Induced by Co-overexpression FGF19 and Met in Mice, junyan tao 8598903, Morgan Preziosi, sucha singh, xin chen, and Satdarshan (Paul) Singh Monga
The Molecular Mechanism of β-catenin Mutations and AKT Synergize Induced Lipogenic HCC in mice, junyan tao 8598903, Sucha Singh, Emily Xu, Na Zhan, Xin Chen, and Satdarshan P. S. Monga
Notch2 Controls Hepatocyte-Derived Cholangiocarcinoma Formation in Mice, Jingxiao Wang, Mingjie Dong, Xinhua Song, Kaiwen Hu, and Xin Chen
Kruppel-Like Factor 2 in Cholangiocarcinoma, Cody J. Wehrkamp and Justin L. Mott
The Role of Uridine-Cytidine Kinase 2 in the Development of Hepatocellular Carcinoma, Dehai Wu, Song Tao, Keunsoo Ahn, Nicha Wongjarupong, and Lewis Roberts
Glypican-3 and CD81 Promote Development Of Hepatocellular Carcinoma And Hepatoblastoma Through Negative Selection., Yuhua Xue, Wendy Mars, William Bowen, Aatur D. Singhi, Sarangarajan Ranganathan, and George K. Michalopoulos
A Comprehensive TCGA Based Analysis of Disruptions in TGF-β Pathway Across 33 Human Cancers, Sobia Zaidi