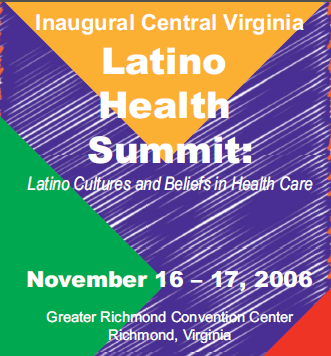 The Latino Health Summit: Latino Cultures and Beliefs in Health Care was sponsored by the VCU Center on Health Disparities and the VCU School of World Studies. It was held at the Greater Richmond Convention Center in Richmond, Va., on November 16 - 17, 2006.
From the conference brochure: "This Summit seeks to equip health care providers, community leaders and individuals involved in the provision of health services with information, knowledge and resources to better serve the growing Latino population in Central Virginia."
This series includes selections from the conference in the form of videos from four of the presentations, one PowerPoint presentation (in pdf), the conference brochure/schedule, and an associated resource guide.
Submissions from 2006
Unequal Treatment: Implications for Latino Health [online video], Joseph Betancourt
Barriers for Latino Immigrants Seeking Health Care Services, Jennier Ng'andu
Culturally & linguistically appropriate health care: understanding laws & policies that impact health care providers [online video], Guadalupe Pacheco, Paul Cushing, and Amy Wilson-Stronks
Brochure and Schedule of Events, Latino Health Summit, Virginia Commonwealth University
Metro Richmond Latino Health Services & Resource Guide – 2006, Virginia Commonwealth University