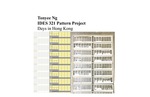 Pattern Project
Abstract
The Pattern Project explores the process of developing visual patterns, intended for the built interior environment, through both hand and digital crafts. Inspirations evolve into pattern concepts that inform message and intention. The intended message then informs motif, color, density, composition, line, repetition, hierarchy, and texture. Drawing from history, designers assess the role of pattern within the built environment and its connection to architecture and building occupants. Traditional handcrafts have evolved and are now used in contemporary processes while new digital crafts have emerged as pattern-making tools. The patterns developed through the Pattern Project were produced to scale on paper or textile measuring approximately 24" wide x 60" long.
Color
White, Yellow, Grey, Tan
Craft
Laser Cut, Digital Print
Tools
Illustrator, Modeling, Laser Cutter
Material
Watercolor paper, Watercolor paper
Pattern Repeat
Digital: 24"x3¾" Hand:24"x15.34"
Inspiration
Tall, narrow, packed, pastel coloured buildings were the things remembered growing up in Hong Kong.
Date of Submission
11-17-2017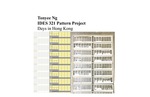 Included in
COinS