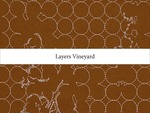 Abstract
The Pattern Research Project involves research and analysis of contemporary patterns found in the textiles and wallcoverings of the built interior environment. Patterns use motif, repetition, color, geometry, craft, technology, and space to communicate place, time, and concept. Through this research and analysis, built environments - their designers, occupants, construction, and context - can be better understood.
Jasmine Zheng, VCU Interior Design BFA 2020, selected the "Layers Vineyard" pattern by Hella Jongerius for Maraham for the 2017 Pattern Research Project. The text below is excerpted from the student's work:
"This was made by Hella Jongerius for a company called Maraham. They reached out to her searching to create an upholstery textile. They wanted something that would flow seamlessly into each other for several meters of repeat. The pattern that I picked was one of three different patterns in the series called Layers. For this textile, Hella Jongerius and Maharam Design Studio came up with a way to bind multiple layers of wool felt with embroidery. The methods that she used were based off research that she conducted on the basis of needle-punched felt panels that she made as a guest curator at the Cooper-Hewitt, National Design Museum in 2005, and as an installation at Villa Noailles, the Robert Mallet-Stevens house in Hyeres, France."
Geometry
Circles, Organic forms
Color
ocher, Scarlet, Taupe, Jade, Ginger
Pattern's Place of Origin
Contemporary
Design
Layers Vineyard Maharam
Pattern Repeat
vertically every 11" and horizontally every 15.5".
Disciplines
Art and Design
Department
VCUarts, Dept. of Interior Design
Date of Submission
1-22-2019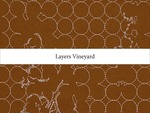 Included in
COinS