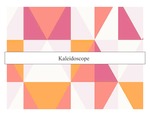 Abstract
2018 Pattern Research Project
Tamara Bowen- Kaleidoscope
The Pattern Research Project involves research and analysis of contemporary patterns found in the textiles and wallcoverings of the built interior environment. Patterns use motif, repetition, color, geometry, craft, technology, and space to communicate place, time, and concept. Through this research and analysis, built environments - their designers, occupants, construction, and context - can be better understood.
Tamara Bowen, VCU Interior Design BFA 2021, selected the Kaleidoscope pattern for the 2018 Pattern Research Project. The text below is excerpted from the student's work:
"Frank Lloyd Wright designed this pattern with the intention of selling it to people who could not live in one of his designed homes. He based all of the patterns on his architecture. The 706 or Kaleidoscope pattern was designed based on a diagonal floor plan that he used often by the 1950's. He often used the diagonal floor plans when designing houses. The geometry of the floor plans are represented in the pattern. A combination of triangles are used within the repeat to create larger shapes throughout the pattern. These triangles can also be seen throughout his drafted drawings to create larger and more complex shapes".
Material
100% Cotton Printed Duck Fabric
Pattern Design Era
20th Century
Design
Frank Lloyd Wright
Disciplines
Art and Design | Interior Design
Department
VCUarts, Dept. of Interior Design
Date of Submission
10-20-2019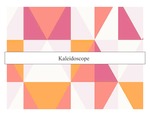 Included in
COinS