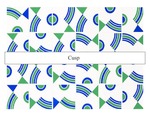 Abstract
2018 Pattern Research Project
Audrey Paiva – Cusp
The Pattern Research Project involves research and analysis of contemporary patterns found in the textiles and wallcoverings of the built interior environment. Patterns use motif, repetition, color, geometry, craft, technology, and space to communicate place, time, and concept. Through this research and analysis, built environments - their designers, occupants, construction, and context - can be better understood.
Audrey Paiva, VCU Interior Design BFA 2021, selected the Cusp pattern for the 2018 Pattern Research Project. The text below is excerpted from the student's work:
"The main shapes used in Athos Bulcao's work are circle and square forms. This is extremely significant because the traditional art of the Indians of Brazil features among other forms, the circle and the square. Also, within his work there is "admiration for different phases of Western art, particularly Byzantine art (form, color, texture)". Most of Bulcao's work was created right after the switch of the new capital city to Brasilia and "a radical change for Brazil. Athos does not believe in inspiration. For him, there is talent and hard work. "Arte é cosa mentale," he says, quoting Leonardo da Vinci. While Athos Bulcao provided the modular units, he was unconcerned with how they would be arranged "preferring to have his collaborators arrange them themselves, following no preconceived order"".
Geometry
Linear, Triangular, Circular
Disciplines
Art and Design | Interior Design
Department
VCUarts, Dept. of Interior Design
Date of Submission
10-25-2019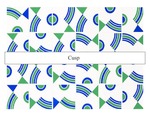 Included in
COinS