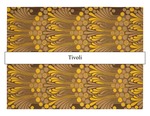 Abstract
2018 Pattern Research Project
Candice Duncan - Tivoli
The Pattern Research Project involves research and analysis of contemporary patterns found in the textiles and wallcoverings of the built interior environment. Patterns use motif, repetition, color, geometry, craft, technology, and space to communicate place, time, and concept. Through this research and analysis, built environments - their designers, occupants, construction, and context - can be better understood.
Candice Duncan, VCU Interior Design BFA 2021, selected the Tivoli pattern for the 2018 Pattern Research Project. The text below is excerpted from the student's work:
"Tivoli was designed for the Heal's fabric in 1967 as a furnishing fabric depicting stylizing flowers and vines printed in multiple color combinations. At this time, Heal's was a leader in this field. The designs they bought exemplified the changing moods of the decade. They develop from sober colors and geometric shapes, though Pop and Op Art-inspired motifs. In the later sixties they are influenced by flower power and revival patterns then move towards the super-realism associated with the early seventies".
Geometry
Linear, Circular
Craft
dyeing, weaving, printing
Tools
Screen Printing Machine
Pattern Design Era
20th Century
Disciplines
Art and Design | Interior Design
Department
VCUarts, Dept. of Interior Design
Date of Submission
10-25-2019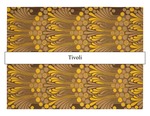 Included in
COinS