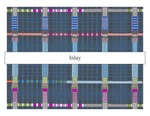 Abstract
2018 Pattern Research Project
Amanda Gill – Inlay
The Pattern Research Project involves research and analysis of contemporary patterns found in the textiles and wallcoverings of the built interior environment. Patterns use motif, repetition, color, geometry, craft, technology, and space to communicate place, time, and concept. Through this research and analysis, built environments - their designers, occupants, construction, and context - can be better understood.
Amanda Gill, VCU Interior Design BFA 2021, selected the Inlay pattern for the 2018 Pattern Research Project. The text below is excerpted from the student's work:
"Inlay is constructed using an end-on-end nylon warp. This means that colored cotton thread is the warp and nylon is the vertical warp. A weaving machine is used for this process. Nylon is used as a polymer. The chemicals used to make nylon are amine, hexamethylene diamine, and adipic acid. The new amide molecules are held together by hydrogen atoms. Inlay is made of mostly cotton, using nylon from stretchability. There is no cultural or religious significance to Inlay, but its precedent pattern does. Inlay was not a direct result of the original tartan pattern, but they have similar characteristics. Both are consisted of vertical and horizontal lines laid out with a grid.
Color
blue, red, green, purple, black, white, brown
Tools
end-on-end nylon warp
Disciplines
Art and Design | Interior Design
Department
VCUarts, Dept. of Interior Design
Date of Submission
10-25-2019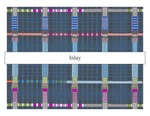 Included in
COinS