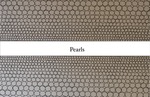 Abstract
2019 Pattern Research Project
Tovahs Welenson - Pearls
The Pattern Research Project involves research and analysis of contemporary patterns found in the textiles and wallcoverings of the built interior environment. Patterns use motif, repetition, color, geometry, craft, technology, and space to communicate place, time, and concept. Through this research and analysis, built environments - their designers, occupants, construction, and context - can be better understood.
Tova Welenson, VCU Interior Design BFA 2022, selected the Pearls pattern for the 2019 Pattern Research Project. The text below is excerpted from the student's work:
"Black circles appear to be layered over a white background but upon closer investigation, the color of this pattern that was used in the graduate is Zinc. Natural zinc is bluish-white or blue-gray in color. The "discovery of zinc traces to the Romans during the time of Augustus, between 20 B.C. and 14 A.D".
Material
non-woven wallpaper
Pattern Repeat
medium scale
Disciplines
Interior Design
Department
VCUarts, Dept. of Interior Design
Date of Submission
9-8-2020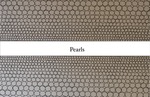 Included in
COinS