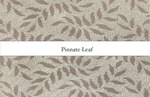 Abstract
2019 Pattern Research Project
Miriam Gibson - Pinnate Leaf
The Pattern Research Project involves research and analysis of contemporary patterns found in the textiles and wallcoverings of the built interior environment. Patterns use motif, repetition, color, geometry, craft, technology, and space to communicate place, time, and concept. Through this research and analysis, built environments - their designers, occupants, construction, and context - can be better understood.
Miriam Gibson, VCU Interior Design BFA 2022, selected the Pinnate Leaf pattern for the 2019 Pattern Research Project. The text below is excerpted from the student's work:
"The pinnate leaf pattern may seem like it's pulled straight from nature, but the curvature and arrangement of the leaf fronds is actually resemblant of the shape of laurel wreaths or crowns, which have a deep history of symbol-ism in several mythologies and societies".
Pattern's Place of Origin
Ancient Greece, Rome
Pattern Repeat
medium scale
Disciplines
Interior Design
Department
VCUarts, Dept. of Interior Design
Date of Submission
9-8-2020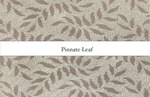 Included in
COinS