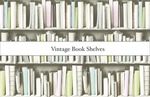 Abstract
The Pattern Research Project involves research and analysis of contemporary patterns found in the textiles and wallcoverings of the built interior environment. Patterns use motif, repetition, color, geometry, craft, technology, and space to communicate place, time, and concept. Through this research and analysis, built environments - their designers, occupants, construction, and context - can be better understood.
Sarah An, VCU Interior Design BFA 2022, selected the ICA Elevator pattern for the 2019 Pattern Research Project. The text below is excerpted from the student's work:
"Trompe-l'oeil is a style of painting that started in 1800s. This was started by artist Louis-Léopold Boilly, a french painter. This pattern became popular to give a study room feel to create a cheaper option that didn't take up a lot of space. This idea of using a bookshelf wallpaper instead of an actual bookshelf as decoration can cause a problem with the idea of authenticy and whether this is okay to create by losing the authenticty of having actual books in a space that people can smell, touch, and feel".
Color
green, blue, white, other
Material
non-woven vinyl wallpaper
Disciplines
Interior Design
Department
VCUarts, Dept. of Interior Design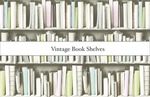 Included in
COinS