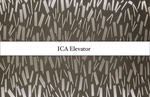 Abstract
The Pattern Research Project involves research and analysis of contemporary patterns found in the textiles and wallcoverings of the built interior environment. Patterns use motif, repetition, color, geometry, craft, technology, and space to communicate place, time, and concept. Through this research and analysis, built environments - their designers, occupants, construction, and context - can be better understood.
Gillian Smith, VCU Interior Design BFA 2022, selected the ICA Elevator pattern for the 2019 Pattern Research Project. The text below is excerpted from the student's work:
"Due to the ICA's geometric, eccentric, and unique character, it's only appropriate that every feature of the building carries at least a little of this idea. The pattern plays with light, shape, and size, as do most features of the museum. Founding Director Lisa Frieman considers light one of the main characters of the building and explains how there is a play between the geometric and the organic when considering shape (Institute for Contemporary Art). The pattern of the ICA's elevator embodies this intention wholeheartedly, creating a space that can envelop its passenger in a world of light and line".
Material
aluminum paneling
Pattern Repeat
medium scale
Disciplines
Interior Design
Department
VCUarts, Dept. of Interior Design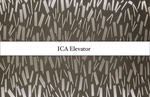 Included in
COinS