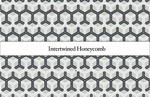 Abstract
The Pattern Research Project involves research and analysis of contemporary patterns found in the textiles and wallcoverings of the built interior environment. Patterns use motif, repetition, color, geometry, craft, technology, and space to communicate place, time, and concept. Through this research and analysis, built environments - their designers, occupants, construction, and context - can be better understood.
Kyle Johnston, VCU Interior Design BFA 2022, selected the Intertwined Honeycomb pattern for the 2019 Pattern Research Project. The text below is excerpted from the student's work:
"This pattern though not indicated has a large indication towards the ancient and modern Islamic world. Islamic faiths used many of geometric patterns in their designs. The Muslim culture does not use iconography in their designs, they don't believe in pictorially identifying their god, so they reverted to using geometric designs and patterns".
Disciplines
Interior Design
Department
VCUarts, Dept. of Interior Design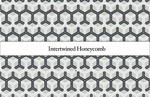 Included in
COinS