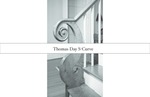 Abstract
The Emblems of Colonialism project is a part of the broader Pattern Research Projects created by design history and design studio faculty members, Emily Smith and Dr. Sara Reed. Students in VCU Interior Design were asked to examine a pattern or motif used on a decorative object or surface during the colonial era in the Americas. During the 15th through 18th centuries, a period of colonialism forced new relationships between European countries and places in what is now known as North America, Central America, and the Caribbean. This project explores how colonial era patterns reveal power structures, othering, and the migration of design ideas.
L.T Moon, VCU Interior Design MFA 2022, selected the Thomas Day S-Curve piece for the 2020 Emblems of Colonialism Pattern Research Project. The text below is excerpted from the student's work.
"Bilateral and symmetrical along the axis consistent use of scale and proportion all elements (ornaments, supports, pulls, arm grips, panels) intentional use of positive and negative space emphasis on geometries, simplistic S-curve pattern appears in supports and ornaments angular, inverted, repetitive, dense curvilinear."
Color
black, brown, other
Material
Mahogany, Mahogany Veneer, Maple, Yellow & White Pine, Oak, Tulip Poplar
Pattern's Place of Origin
Milton, North Carolina
Pattern Design Era
19th Century
Disciplines
Interior Design
Department
VCUarts, Dept. of Interior Design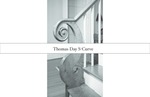 Included in
COinS