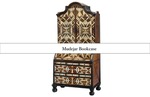 Abstract
The Emblems of Colonialism project is a part of the broader Pattern Research Projects created by design history and design studio faculty members, Emily Smith and Dr. Sara Reed. Students in VCU Interior Design were asked to examine a pattern or motif used on a decorative object or surface during the colonial era in the Americas. During the 15th through 18th centuries, a period of colonialism forced new relationships between European countries and places in what is now known as North America, Central America, and the Caribbean. This project explores how colonial era patterns reveal power structures, othering, and the migration of design ideas.
Hallie Gillespie, VCU Interior Design MFA 2022, selected the Mudejar Bookcase for the 2020 Emblems of Colonialism Pattern Research Project. The text below is excerpted from the student's work.
"Painted in a striking red and gold chinoiserie style, in keeping with an achinadotradition in which Latin American artists borrowed and embellished Chinese and Japanese styles of furniture, china, silver, and textiles that had been imported from Manila to Acapulco during the 250 years of the Manila Galleon trade".
Color
brown, yellow, red, other, orange
Craft
carpentry, stenciling, other
Material
Inlaid Wood, Incised + Painted Bone, Maque, Metal
Pattern's Place of Origin
Spain
Pattern Design Era
Mid-18th Centuery
Design
Mudejar, Chinoserie Map
Disciplines
Interior Design
Department
VCUarts, Dept. of Interior Design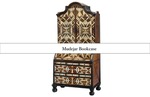 Included in
COinS