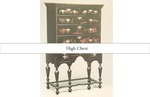 Abstract
The Emblems of Colonialism project is a part of the broader Pattern Research Projects created by design history and design studio faculty members, Emily Smith and Dr. Sara Reed. Students in VCU Interior Design were asked to examine a pattern or motif used on a decorative object or surface during the colonial era in the Americas. During the 15th through 18th centuries, a period of colonialism forced new relationships between European countries and places in what is now known as North America, Central America, and the Caribbean. This project explores how colonial era patterns reveal power structures, othering, and the migration of design ideas.
Stephanie Wilburn, VCU Interior Design MFA 2022, selected the High Chest piece for the 2020 Emblems of Colonialism Pattern Research Project. The text below is excerpted from the student's work.
"This William and Mary High Chest was fabricated in Boston, Massachusetts between 1720 -1730. The surface of the furniture is decorated in the "Japanned" style popular in the British Colonies from 1700 to 1775. Japanning was a process first created and popularized in Europe designed to imitate the decorative ornament of Asian lacquers which were too expensive and difficult to work with to import to the West. Exposure to goods from Asia first through the Spanish and Portuguese exploration and then through trade from the Dutch East Indies Company drove the desire for "exotic" goods."
Color
brown, orange, other
Craft
stenciling, other, carpentry
Tools
Camel Hair Brushes, Pulverizers, Weighing Scales, Color Mill, Unadorned Furniture
Material
Pine, Oak, Walnut, Maple, Glue, Pigments, Binders, Chalk, Resin
Pattern's Place of Origin
Boston, Massachusetts
Pattern Design Era
British
Design
Chinoserie Scene, Arabesque
Disciplines
Interior Design
Department
VCUarts, Dept. of Interior Design
Date of Submission
3-16-2021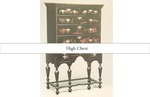 Included in
COinS