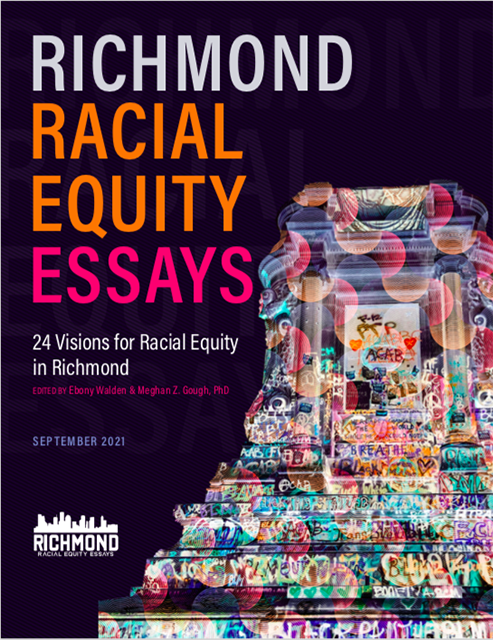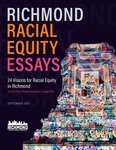 DOI
https://doi.org/10.21974/hhka-fs16
Publisher
Richmond Racial Equity Essays
Description
This ebook of 24 essays is a component of the Richmond Racial Equity Essays project. The idea was inspired by and modeled after The Just City Essays: 26 Visions of Equity, Inclusion and Opportunity, an ebook of 26 essays edited by Toni L. Griffin, Ariella Cohen, and David Maddox and published by J. Max Bond Center on Design for the Just City at the City College of New York, the Nature of Cities and Next City.
Using The Just City Essays as a model, urban planner and consultant Ebony Walden collaborated with Dr. Meghan Gough from VCU's Wilder School of Government and Public Affairs and urban farmer and activist Duron Chavis to create a similar collection of essays along with seven video interviews and an eight-episode podcast series focused on racial equity In Richmond, Virginia. We hope to capture voices from all walks of life and sectors in Richmond, from activists to academics, representing the diversity of the Richmond community. The goal is to explore what an equitable Richmond looks like, especially as it relates to racial equity, and to highlight the strategies that will help us get there. We'd like the ideas from the essays and videos to create a solid framework for advancing racial equity in Richmond.
Contents
Planning for Inclusive Communities -- Building and Sustaining Affordable Housing -- Ensuring Educational Equity -- Advancing Economic Empowerment -- Shifting Power and Reimagining Partnerships -- Lifting up Latino Leadership and Language Access -- Creating Community, Healing and Justice -- Building a Healthy Environment
Keywords
Richmond, racial equity, race, urban studies
Disciplines
Education | Social and Behavioral Sciences | Urban Studies and Planning
Contributor
Edited by Ebony Walden and Meghan Z. Gough.
Digital File Type
application/pdf
Date Created
September 2021
Date of Submission
11-22-2021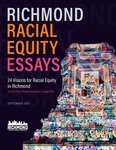 Included in
COinS