Title
Preview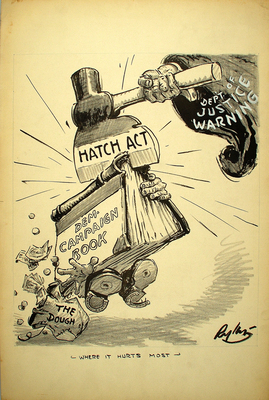 Displayed Title
Where it hurts most
Date Published
1940-08-14
Publishing Note
Cartoon was published in the Evening Public Ledger (Philadelphia) on August 14, 1940.
Contained Text
Hatch Act; Dept. of Justice warning; Dem. campaign book; The dough
Original Item Medium
Ink and crayon on coquille board.
Original Item Size
53 cm. x 35.5 cm.
Topical Subject
Political campaigns -- Law and legislation -- United States; Political participation -- United States
Corporate Name Subject
United States. -- Act to Prevent Pernicious Political Activities; United States. Dept. of Justice; Democratic Party (U.S.)
Geographic Subject
United States -- Politics and government -- 1933-1945; United States -- Officials and employees -- Political activity
Genre
political cartoons; editorial cartoons
Rights Statement URL
https://rightsstatements.org/vocab/UND/1.0/
Rights
The copyright and related rights status of this material is unknown. Acknowledgement of Virginia Commonwealth University Libraries as a source is requested.
Collection
Sykes Editorial Cartoon Collection
Source
Original Cartoon: Where it hurts most, Charles Henry Sykes Cartoon Collection, Accession #M 169, Special Collections and Archives, James Branch Cabell Library, Virginia Commonwealth University.
File Name
syk006_where_it.jpf