Title
Preview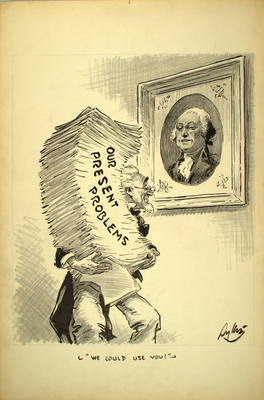 Displayed Title
"We could use you!"
Date Published
1940-02-22
Publishing Note
Cartoon was published in the Evening Public Ledger (Philadelphia) on February 22, 1940.
Contained Text
Our present problems
Original Item Medium
Ink and crayon on coquille board.
Original Item Size
53 cm. x 35.5 cm.
Individuals Depicted
Washington, George, 1732-1799; Uncle Sam (Symbolic character)
Topical Subject
Leadership -- United States
Personal Name Subject
Washington, George, 1732-1799
Geographic Subject
United States -- Politics and government -- 1933-1945; United States -- History -- 20th century
Genre
political cartoons; editorial cartoons
Rights Statement URL
https://rightsstatements.org/vocab/UND/1.0/
Rights
The copyright and related rights status of this material is unknown. Acknowledgement of Virginia Commonwealth University Libraries as a source is requested.
Collection
Sykes Editorial Cartoon Collection
Source
Original Cartoon: We could use you, Charles Henry Sykes Cartoon Collection, Accession #M 169, Special Collections and Archives, James Branch Cabell Library, Virginia Commonwealth University.
File Name
syk001_we_could.jpf