Title
Preview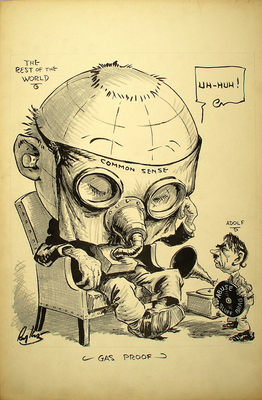 Displayed Title
Gas proof
Date Published
1940-02-01
Publishing Note
Cartoon was published in the Evening Public Ledger (Philadelphia) on February 1, 1940.
Contained Text
The rest of the world; Common sense; Uh-huh!; Adolf; Abuse bluff brag
Original Item Medium
Ink and crayon on coquille board.
Original Item Size
53 cm. x 35.5 cm.
Individuals Depicted
Hitler, Adolf, 1889-1945
Topical Subject
Public opinion
Personal Name Subject
Hitler, Adolf, 1889-1945 -- Public opinion
Geographic Subject
Germany -- Politics and government -- 1933-1945
Genre
political cartoons; editorial cartoons
Rights Statement URL
https://rightsstatements.org/vocab/UND/1.0/
Rights
The copyright and related rights status of this material is unknown. Acknowledgement of Virginia Commonwealth University Libraries as a source is requested.
Collection
Sykes Editorial Cartoon Collection
Source
Original Cartoon: Gas proof, Charles Henry Sykes Cartoon Collection, Accession #M 169, Special Collections and Archives, James Branch Cabell Library, Virginia Commonwealth University.
File Name
syk002_gas_proof.jpf